How to Install The Latest DotNetNuke
There are two ways to installing DNN. One is through the app gallery (which may not be available where you host) and another way is doing a manual install. Here are the instructions on how to install the latest version of DNN manually.
1) Make sure that your website where you want to install nopCommerce has the ASP version set to 4.0 Integrated. Please see http://blog.arvixe.com/how-to-change-your-asp-version-in-websitepanel/ to learn how to change this from your control panel. Simply log into your control panel Home >> Websites >> Web Site Properties >> Extensions select ASP.NET version and click Update button. –
2) Go to https://dotnetnuke.codeplex.com/releases/view/112531 and download the latest version from there. The "New Install version" would be the one you're looking for, so download that.
3) Upload the file. Now you can upload the file to your root directory wwwroot. To upload it you can use:
– File Manager: http://blog.arvixe.com/how-and-where-to-upload-site-files-for-windows/
– FTP (FileZilla recommended) – https://filezilla-project.org/download.php
In this case, we're going to use Filezilla, since the Websitepanel only allows 10MB max for uploading files.
4) Once the file is uploaded. You now need to extract it. First, using the File Manager select the file then you click on "Unzip". If you face any issues doing this. You can ask our Support to do this for you or you can extract the file locally then upload the extracted files using FileZilla.
5) Create a MSSQL DB and a DB username. http://blog.arvixe.com/how-to-set-up-a-sql-2008-database/ .
6) Now go to your website by visiting it ex: www.YourDomain.com. You will see something like: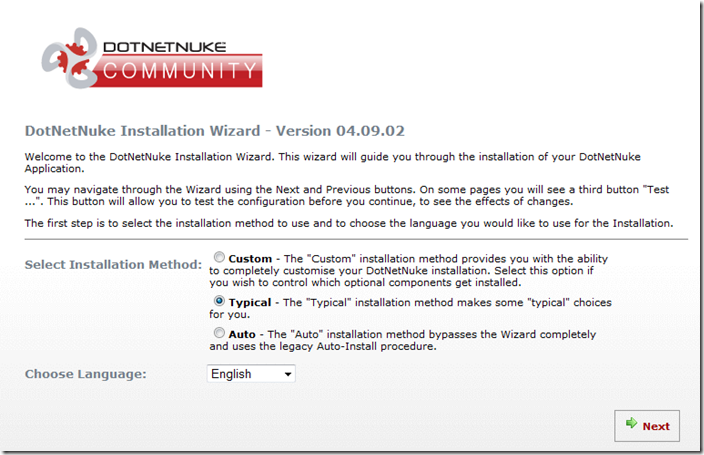 It might be different due to the version you are trying to install.
7) You can now proceed to enter the database info from what you just created via the websitepanel and let the automatic installer do its thing.
Congratulations, you have just installed a working copy of DotNetNuke!
If you face any issues attempting this, email our scripts department – Scripts@arvixe.com
Looking for quality DotNetNuke Hosting? Look no further than Arvixe Web Hosting!